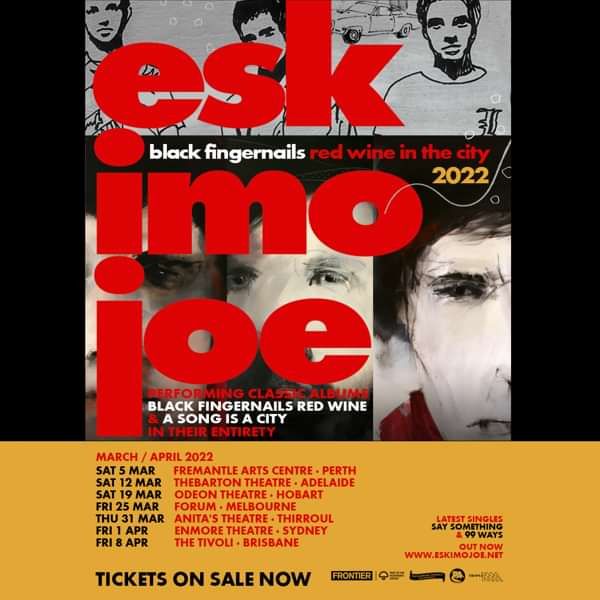 Sat 19 March 2022 - Odeon Theatre Hobart, TAS
We're heading out on a national tour in March and April 2022 to play our albums A Song Is A City and Black Fingernails Red Wine in full, back to back - plus a few surprises for you!
Some of these songs have never been played live before, but every song on each of these albums means so much to us, and signifies such an important time in our lives and our career as a band.  We can't wait to relive them all with you on this epic tour presented by Frontier Touring, Premier Artists, Catherine Haridy Management & Triple M.
Tickets are ONSALE NOW
Line Up
Album number six from Eskimo Joe was always going to be about doing things differently. In 2012, the band left its long-time record label, launched a hugely successful crowd-funding campaign and recruited producer Burke Reid for their independent album, Wastelands. Having recorded the entire album in their own studio, for themselves and their fans, with music industry politics not in the mindset, Eskimo Joe returned to the ethos that set them on this 16-year odyssey in the first place.
Successfully straddling mainstream commercial success while managing to keep their Alternative Music roots secure, over their career, Eskimo Joe has racked up a list of impressive stats, both commercial & critical awards and recognition. Three of the band's six albums debuted at #1 on the ARIA charts with juggernaut "Black Fingernails, Red Wine" shining for 62 weeks in the Top 50 and "Foreign Land" bringing home 2 APRA Awards for Most Played Rock Song on Australian radio and Best Rock Song of 2010. Eskimo Joe has had 35 ARIA nominations in their career thus far, brought home 3 International Songwriting Awards, 11 WAMi Awards and 8 ARIAs plus saw 11 songs feature in Triple J's Hottest 100. On the live front, they have performed at huge events such as Sound Relief, Live Earth, Make Poverty History, ARIA Awards, Big Day Out, Homebake, Splendour In The Grass, Triple J's One Night Stand and Sundance Film Festival in Utah, USA. Along with numerous tours of Australia, their music released to great acclaim in the US, Canada, Europe and Korea with festivals and sold out tours to boot.
Certainly a long way from their humble beginnings as much loved indie rock kids in Fremantle WA.
View Profile